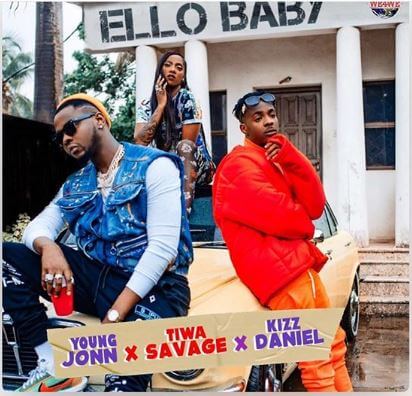 "Ello Baby"
is such a fun record to listen and dance to.
It is short, simple and very sweet.
Straight to the point! No faffing involved.
You'll definitely wanna have this one on replay, and that's because the musical is devoid of those lyrical repetitions that have become especially synonymous with the eminent Zanku style of music, which sadly, many impending street musicians have dearly abused and bored me sick already of listening to.
It is also because this genius that is Young John put a fancy spin on a record that back tracks us in a flash to the early millennial era when Makossa was the frenzy.
I mean, who wants to do a Makossa track in 2019?
??
?
?
?
Only Flavour, Yemi Alade perhaps, and of course the Soukous master himself, Awilo Longomba have really mastered the art of delivery of this immemorial sound. So it does come with a shocking thrill to hear the sonorous vocal constructs of Afro-pop doctorates, Kizz Daniel and Tiwa Savage on such a boisterous production.
Shall we take a bit to deal Tiwa Savage for a second or two? Yes please. This will be her first musical outing in what has seemed like a decade in music years. The fact that it's coming after the razzmatazz of her signing to global music imprint, Universal Music, alludes to the statement about the company throwing all of their weight behind her and her proudly Nigerian style of musical story telling. While the doro-diva's beautiful contralto gives the track a much-appreciated vocal edge, she slays even harder with a verse that is composed mostly of musical
lambas
done in her native Yoruba lingo.
Kizz Daniel on the other hand is still on a roll, his showmanship has made him a desperate commodity in the music market square. The sleekness with which he now commands regard in the industry is what must have had him tapped on for a collaborative effort with Ms Savage, a second time (this is a feat only the Starboy held record to prior to now). Vado not only owned the heck outta the song, he made the experience for us listeners a quite amusing yet pleasurable one. But as much as he deserves credit for dictating the musical vibe on "Ello Baby,"
shall we not forget so quickly that all the hype and shimmer and shine of these stars wouldn't have been made possible without the input of Young John, the wicked producer.
Music rating – Sweet like sugar.
Reviewed by Jim Donnett, an avid writer and Nigerian music curator.
Connect with him via @jimancipation